Kirrikin Founder Talks About Kirrikin Summer Collection for SS18
Wed Apr 25 2018 by Mellisa Moyle
With the recent launch of Kirrikin's very first resort wear line, Kirrikin Summer (SS18), we decided to have a quick chat with founder Amanda Healy about all little background on the brand. We also wish for our customers and followers to understand the story behind Kirrikin as a social enterprise and fashion label. Read below to hear about her personal journey with Kirrikin so far....
1. Tell us, what makes Kirrikin so special?
Our prints and artists are amazing! We are a social enterprise, and our profits are used for the benefit of artists and Aboriginal women in prison – one of the fastest growing incarcerated groups on earth. It is important that we start to address recidivism – particularly in Aboriginal people.
2. With so many great artists around, how do you select who to use?
Well, this is a very big question, and quite difficult to answer. Originally we selected pieces that took our eye, with colours which were beautiful, and represented what we were about initially. As time has gone on though, it is more difficult to define who fits in best. We have identified our next group of artists - and they are amazing! I am keen to see the public's reaction to them!
3. Lets talk about the journey from Kirrikin to Kirrikin Summer
This is quite a big and risky step for me, without a strong background in fashion. We have been supported very strongly by Mariella Harvey-Hanrahan from TPFF, who has coached us through a lot of stuff, and we have partnered up with some amazing designers and fashion industry people. We managed to find a great manufacturer here in Perth, so I am rapidly gaining some comfort with it.
4. What excites you the most about the launch of Kirrikin Summer?
I am loving seeing the gorgeous prints in a different way, it is remarkable to see how the prints relate in a totally new look.
5. Where can we find Kirrikin Summer in the future?
At this stage online only, we will test the market and see how we go. Will be looking for wholesalers in the coming year though.For this collection, artist Francine Kickett's "Hills" artwork was selected as the print. However, the artwork will change with each season and collection.
Follow us on Instagram @kirrikinaustralia and Facebook - Kirrikin for updates on this collection and any Kirrikin related news.
CHECK OUR COLLECTION

Oct 31, 2023 Lauren Davidson
In the bustling heart of Melbourne, Kirrikin brought a vibrant burst of culture and fashion to Melbourne Fashion Week. Amanda Healy's brainchild, Kirrikin, made its mark once again, this time with the captivating YES collection. This year's runway presentation resonated with hope, resilience, and the rich tapestry of Indigenous creativity.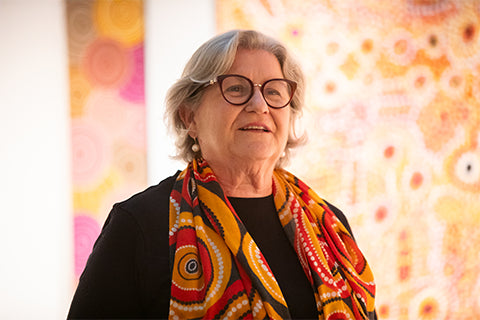 Oct 30, 2023 Lauren Davidson
Amanda Healy, the visionary behind Kirrikin fashion brand, seamlessly melds luxurious Australian art with contemporary fashion, underpinned by an unwavering commitment to sustainability and the promotion of Indigenous culture. With over three decades of experience in the mining industry, Amanda's unconventional journey culminated in the establishment of Kirrikin in 2014.