Winter Style is Coming...
Wed May 16 2018 by Mellisa Moyle
It's that awkward time of the year in Australia when the weather plays a few mind games with you. It isn't quite cool enough for a jacket, but it isn't sunny enough for denim shorts and singlets. Don't worry, we've got your covered. Enter a few accessories and you'll be sure to stay ahead of the fashion and the weather game.
If you're currently in Australia you could be forgiven for wondering if the warm weather was ever going to leave us. Rest assured, we know history has a tendency to repeat itself, meaning autumn/winter is just around the corner!While we aren't quite at the thermals and fluffy socks stage, you can throw a scarf around your shoulders in the evenings, or spice up an otherwise lacklustre outfit at dinner time with a colourful cashmere.

Cashmere is your answer for when the temperature drops just a few degrees lower than anticipated, while silk can be worn more freely as a cover-up or versatile accessory. See here for tips on how to tie a scarf. NatBelow are some of our most colourful scarves, they might just be the perfect partner for those cool evenings. The first two are native pear in cashmere, split jack in cashmere and hills in silk.
CHECK OUR COLLECTION

Oct 31, 2023 Lauren Davidson
In the bustling heart of Melbourne, Kirrikin brought a vibrant burst of culture and fashion to Melbourne Fashion Week. Amanda Healy's brainchild, Kirrikin, made its mark once again, this time with the captivating YES collection. This year's runway presentation resonated with hope, resilience, and the rich tapestry of Indigenous creativity.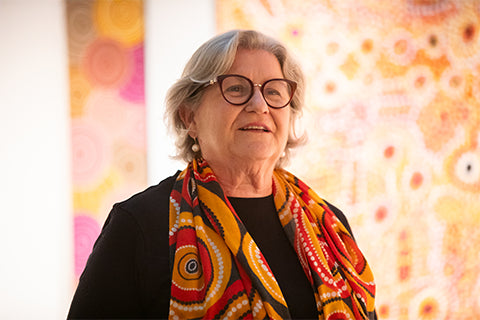 Oct 30, 2023 Lauren Davidson
Amanda Healy, the visionary behind Kirrikin fashion brand, seamlessly melds luxurious Australian art with contemporary fashion, underpinned by an unwavering commitment to sustainability and the promotion of Indigenous culture. With over three decades of experience in the mining industry, Amanda's unconventional journey culminated in the establishment of Kirrikin in 2014.