Kirrikin Unveils the YES Collection During Melbourne Fashion Week
Tue Oct 31 2023 by Lauren Davidson
Kirrikin Shines at Melbourne Fashion Week
From international runways to press interviews and new business ventures, it certainly has been a busy month for celebrated First Nations Fashion brand Kirrikin.

Further adding to the brand's celebrations this month, was Kirrikin's presentation at Melbourne Fashion Week (MFW) on Wednesday evening.
No stranger to the popular fashion event, Wednesday's presentation happened to be Kirrikin's fifth time showcasing their designs since founder Amanda Healy launched the brand in 2014.
Narelda Yonga's Dress
Introducing our unique Narelda Yonga's Dress, where elegance meets whimsy.
Kirrikin on The Commons Collective Runway at Melbourne Fashion Week.

The dresses are offered for both sale and rental, and you can simply choose to purchase or rent by clicking the respective button.
Buy the dress
Hire the dress
Unveiling the YES Collection
Whilst this may be a returning runway event for Healy and the brand, this year saw Kirrikin create further conversation amongst guests and media with the presentation of their recently launched YES collection.

"I think this is the fifth year I have been to MFW, this year my collection is called the YES collection, it is a story of hope, and resilience. The great variety of our people and the creative culture we have in our communities. We showcase the variety and uniqueness of our people and art," said Kirrikin founder Amanda Healy.
"It was named with a great wish for change and inclusion in our country – sadly not to be. Now, it is YES to our future, to our work, to our resilience, and our want for change for the better – I am still not sure how we can achieve that, but we will."
Kirrikin on The Commons Collective Runway at Melbourne Fashion Week.

The Kaye Dress Pink
Introducing the Pink dress, the Kaye dress by artist Kaye White.
The dresses are offered for both sale and rental, and you can simply choose to purchase or rent by clicking the respective button.
Hire the dress
Buy the dress
International Ventures and Future Aspirations
While last night's runway was quite the talking point, Kirrikin has also made several headlines this month for the brand's international travels to London, the Hague, Vienna, Budapest, and Dubai.
"We visited London, the Hague, Vienna, and Budapest. We were home for about a week when we went to Dubai Fashion week, and the Cairo Project in Cairo. So it has been a very busy month for us," Healy told Style Up.
While this trip was about opportunities and exposure, Healy also stated that the building of ongoing relationships through dance and play, was vital in promoting Indigenous Australia and engaging in traditional cultures.
"We have created interest in our various brands and started some conversations that will create longer-term relationships in the places visited. We continue to tell our stories and promote Indigenous Australia, as well as celebrate Free Trade Agreements with the various DFAT offices overseas," she said.
"More that that, we took some amazing Indigenous creatives in support of our works, who danced, played yidiki and displayed artwork in the sites we visited. It opened their minds to other possibilities and increased their professional practice and profile in an international setting.
"It is an amazing experience to present our stories in front of 200 or 300 people from a different part of the world, with limited support – it made us realize we can do just about anything."
Kirrikin's Upcoming Collection
Despite already having a busy 2023, Amanda Healy and the team are currently working on Kirrikin's next collection, which of course will bring something different to the infamous Australian brand once again.
"We are currently working on our next collection, not to give too much away, but it will have a very special WA feel to it, with all the beautiful colors of the SW of WA," she said.
Featured Images by: Naomi Rahim.

Oct 31, 2023 Lauren Davidson
In the bustling heart of Melbourne, Kirrikin brought a vibrant burst of culture and fashion to Melbourne Fashion Week. Amanda Healy's brainchild, Kirrikin, made its mark once again, this time with the captivating YES collection. This year's runway presentation resonated with hope, resilience, and the rich tapestry of Indigenous creativity.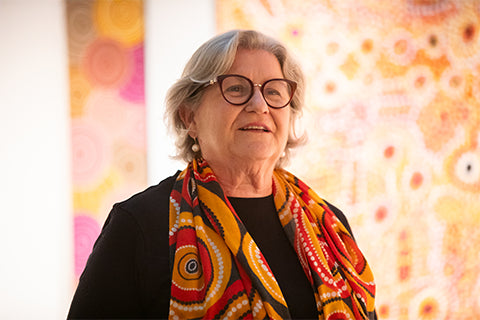 Oct 30, 2023 Lauren Davidson
Amanda Healy, the visionary behind Kirrikin fashion brand, seamlessly melds luxurious Australian art with contemporary fashion, underpinned by an unwavering commitment to sustainability and the promotion of Indigenous culture. With over three decades of experience in the mining industry, Amanda's unconventional journey culminated in the establishment of Kirrikin in 2014.