Intertwined Runway Wrap-Up
Mon May 28 2023 by Mellisa Moyle
Kirrikin Summer Launches in Style: Embracing Culture and Fashion at Intertwined 2018
Last month we officially launched our resort-wear collection, Kirrikin Summer, during the Intertwined event on the Gold Coast. This event was a part of the cultural festival for the 2018 Commonwealth Games. The purpose of Intertwined was to celebrate culture in fashion, art and dance through textiles and adornments.The models in the parade were all of Aboriginal and Torres Strait Islander heritage and looked gorgeous as they sashayed in front of the audience. Intertwined was the perfect opportunity to launch our debut collection while celebrating Aboriginal culture! Kirrikin Summer adds to our accessories line, which sells scarves, ties and pocket squares. We've recently added earrings to our collection as well. By offering kaftans, swimwear, dresses, jumpsuits and earrings to Kirrikin, we feel we have added something special to the Australian fashion scene which was previously missing.

The collection for SS18 uses Francine Kickett's "Hills" artwork as the print, however, with each season we will change the featuring print and artist. A percentage of the profit is returned to the artists, as well as to help fund a program for Aboriginal women in prison. Click the link here https://bit.ly/2GV9033 to see the full collection from the Intertwined runway show.
Oct 31, 2023 Lauren Davidson
In the bustling heart of Melbourne, Kirrikin brought a vibrant burst of culture and fashion to Melbourne Fashion Week. Amanda Healy's brainchild, Kirrikin, made its mark once again, this time with the captivating YES collection. This year's runway presentation resonated with hope, resilience, and the rich tapestry of Indigenous creativity.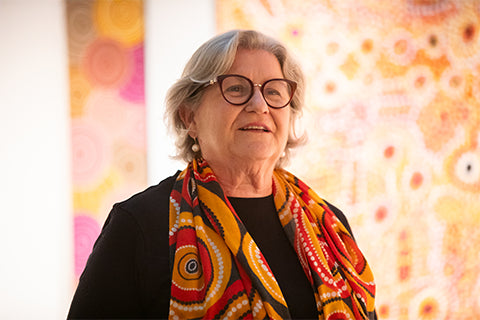 Oct 30, 2023 Lauren Davidson
Amanda Healy, the visionary behind Kirrikin fashion brand, seamlessly melds luxurious Australian art with contemporary fashion, underpinned by an unwavering commitment to sustainability and the promotion of Indigenous culture. With over three decades of experience in the mining industry, Amanda's unconventional journey culminated in the establishment of Kirrikin in 2014.