Kirrikin, a First Nations Fashion Brand, Introduces Dress Rental Business Model
Mon Sep 25 2023 by Lauren Davidson
Garment Rentals on the Rise: Kirrikin, a First Nations Fashion Brand, Joins the Trend
The concept of renting garments has long been in vogue, offering a sustainable and cost-effective approach to fashion. In 2023, this trend has resurged in popularity across Australia, with various retailers now offering rental options to consumers. As the year-end festivities approach, hiring clothes has become an appealing and time-saving choice for both consumers and brands.Recognizing this growing trend, Kirrikin, a well-known First Nations fashion brand, recently announced its entry into the garment rental market. The brand, known for its digitally-printed garments, aims to broaden its market reach, locally and internationally, with this new service.
Founder Amanda Healy shared, 'This expansion into garment rental is part of our sustainability efforts, as people have long asked if they can rent our garments, especially the evening wear.'

Kirrikin has made the rental process both elegant and convenient with a user-friendly online platform, offering a fashionable and money-saving alternative.

Customers can select their desired garment size and rental duration, with options of 3 or 7 days, streamlining the typically complex rental process.

Additionally, the rental price already includes dry-cleaning, eliminating the need for customers to handle this separately.
KIRRIKIN HIRE

Both the Ripples collection and evening wear dresses are available for international rental and delivery, making it accessible to consumers worldwide. Kirrikin's team states, 'Our exclusive collection features a range of stunning dresses for every event.'
This rental option not only enables a wider audience to experience Kirrikin's renowned garments but also allows stylists and industry professionals to access the collection for various occasions. As Kirrikin continues to gain recognition for its striking designs and commitment to First Nations fashion, this business expansion further cements its position at the forefront of industry trends, both on and off the runway.
KIRRIKIN HIRE : Elevate your events with Kirrikin Dress Hire's stunning collection and personalized advice. Effortlessly select your dress online.
Model Tahlia Glasson wearing the Jaynaya Wrap Dress with the Grevillia print created by artist Jessica Tedim. The Jaynaya Wrap Dress is just one of the many evening-wear dresses now available for hire
Oct 31, 2023 Lauren Davidson
In the bustling heart of Melbourne, Kirrikin brought a vibrant burst of culture and fashion to Melbourne Fashion Week. Amanda Healy's brainchild, Kirrikin, made its mark once again, this time with the captivating YES collection. This year's runway presentation resonated with hope, resilience, and the rich tapestry of Indigenous creativity.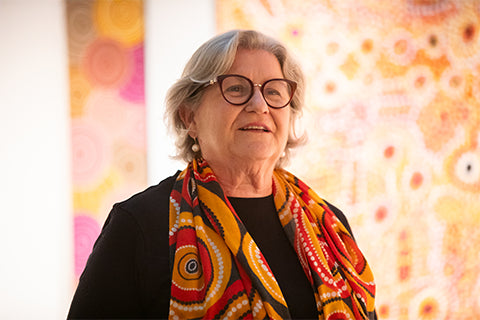 Oct 30, 2023 Lauren Davidson
Amanda Healy, the visionary behind Kirrikin fashion brand, seamlessly melds luxurious Australian art with contemporary fashion, underpinned by an unwavering commitment to sustainability and the promotion of Indigenous culture. With over three decades of experience in the mining industry, Amanda's unconventional journey culminated in the establishment of Kirrikin in 2014.