4 Ways to tie a Head Scarf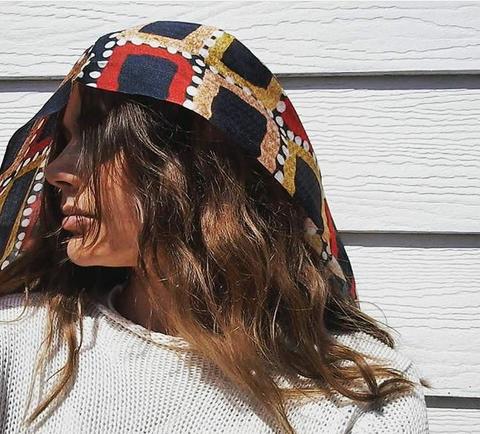 In our very first Kirrikin blog post we discussed different ways implement a scarf into your daily outfit.
For our second blog post, we head north to offer 4 cute ways to style a head scarf/wrap. 
Head scarves are a chic, creative way to add a little charisma to your outfit. Your most basic jeans and tee will exude a hint of drama once you add a scarf into the mix. They're also great for helping you hide your strands on a few of those dreaded bad hair days! Team your scarf with some chunky jewellery, a bold lip and beach waves for that high glamour, exotic vibe. Enter a pair of heels or wedges and the heads will most definitely be turning!!  
It was difficult to narrow down the options, however, we've selected 4 styles for you to try the next time you need a little inspiration. 
1. The Knot
Tie your hair into either a high bun on top of your head
Place the middle of the scarf at the base of your skull and then take the ends and tie a knot at the top of your forehead (in the center) near your hair line
Create an oversized bow
Take the loose ends and tuck them into the scarf. From here you can style however you wish. For an oversized bow look you can leave the bow loose, or for a more turban style finish you can tuck the ends into the top of the scarf
2. The Karate Kid 
Fairly simple style which can be worn with hair either up or down
Depending on the width of the scarf, fold scarf length ways once or twice to fit around your head
Wrap scarf around your hair line and secure at the base of your neck with a bow. Pull the ends so they drape either down your back or over your shoulder
You can also tie the scarf on top of your hair (See top images) instead underneath the hair to keep the fly aways at bay
3. The Jackie
Fold scarf into a triangle
Drape scarf over your head so the long edge of the triangle is on your forehead
Grab the two scarf edges on either side of your head and tie into a knot at the back of your head, wherever you fancy
The knot can be worn at the back or the side
4. The Turban
Place the length of the scarf behind your head and pull the ends up towards your forehead and pull so it's firm around your head
Twist the ends all the way down the ends like a rope
Wrap the twisted ends in a circle, similar to how you would twist your hair into a bun
Secure ends underneath the bun so they are neatly hidden and you create a nice firm, clean knot